Need Help?

More Information

Description
Multiplate bioreactor for cell-based product manufacturing
Features and Benefits
USP Class VI certified materials
Designed for adherent cell culture applications
Treatment for cells adherence
Single-use closed bioreactor, from vessel to sensors, reduces risk of contamination
2-D multiplate design allows easy adaptation from traditional multitray systems
Integrated,disposable pH DO probes
Real-time control and monitoring ensures reproducibility and traceability
Reduced operations results in process simplification, flexibility, and assurance
The Xpansion multiplate bioreactor is part of the Pall Life Sciences' single-use bioreactor family, designed for shear-sensitive adherent cell applications, such as cultivation of stem cells.
The Xpansion multiplate bioreactor was developed for safe, large-scale production of traditional 2-D cell cultures.The multiplate structure is comprised of a large cell growth surface area (up to 122,400 cm2), while the compact design enables the elimination of the gas phase between the plates. This gas phase is replaced by an automatically controlled aeration system which provides advanced gas diffusion. Control is automatic via disposable pH and dissolved oxygen (DO) sensors. Temperature monitoring and agitation control are also included. Xpansion bioreactors offer the capability of monitoring cell morphology and density through the use of an optional digital holographic microscope.
Xpansion System Components
The Xpansion system includes a single-use bioreactor, docking station and a controller.
Single-Use Bioreactor with Stacked Multiplate Design
Comprised of stacked hydrophilized polystyrene radial plates, the Xpansion bioreactor is designed to promote cell growth on the top of each plate; each plate has a hole in the center. The stacking of these plates forms the central column which allows circulation of the medium in the bioreactor and gas exchange.
The plates are covered by an outer tube, a head plate on the top and a base plate on the bottom. On the head plate, there are:
Six sensor connectors: pH, DO, and four optional sensors
Three viewing windows for use with optional holographic microscope
Two vent filters
Two gas filters (in and out) for aeration system
One thermowell port
One sampling port
In the bottom side of the bioreactor, there are:
Two fluid operation ports (e.g., inoculation, harvest, etc.)
One magnetic impeller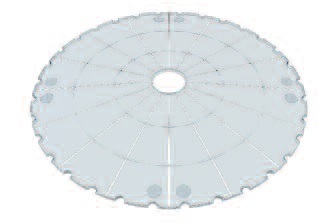 An Xpansion Plate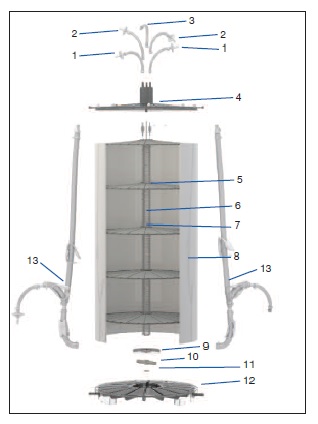 The Xpansion Multiplate Bioreactor
Materials
1
Gas lines
(in & out)
C-Flex* tubing and silicone 3/16 in. ID, 0.2 μm hydrophobic filters (PTFE, polyester, polypropylene)
2
Vent.1
C-Flex 3/16 in. ID, 2 0.2 μm hydrophobic filters (PTFE,polyester, polypropylene)
3
Sampling port
C-Flex 3/16 in. ID with needleless connector for sampling with luer syringe + oneway valve
4
Top part
Clear polystyrene
5
Cell surface plates
Cell culture plasma-treated clear polystyrene
6
Aeration support
Polypropylene + polycarbonate
7
Aeration tubing
Silicone 0.58 in. ID x 0.77 in. OD
8
Outer tube
Polyvinyl chloride
9
Stirrer cover
Clear polystyrene
10
Impeller
Ultra-high-molecular-weight polyethylene
11
Bearing
Polyether ether ketone
12
Bottom part
Clear polystyrene
13
Liquid in/out tubing
C-Flex Clear 374 Tubing 3/8 in. ID, CPC MPC male connector, 0.2 μm hydrophobic filters
Sealing material
Resin
Docking Station
The bioreactor docks to a station that includes a magnetic drive stirring unit powering the magnetic impeller.
Control of agitation speed is integrated in the controller. The setpoint is defined via the screen on the front side of the controller.
Controller
The controller has measurement/control hardware and a gassing system with a digital control.
Features of the Xpansion controller include:
Graphic user interface with color display and touch screen operation with Administrator and Operator security levels
Integrated transmitters for temperature, disposable DO and pH sensors
Integrated control loops for DO and pH
Agitation control (speed range from 5 to 250 rpm)
Temperature monitoring
DO and pH sensor patches arrive precalibrated; data are transferred via a USB key to the controller
In-process DO and pH can be recalibrated
Trend display for up to four process values (pH, DO, T, gas flow rate)
Controller Gas Module
The controller is connected to the user's gas supply line. Its "gas outlet" is connected to the "gas in" filter of the bioreactor. Gas composition to be injected in the bioreactor is regulated by controller solenoid gas valves. The flow rate of the mixed gas is adjusted by a massflow controller (0-200 mL/min). The controller gas module contains:
One gas diffuser outlet
Four solenoid valves of Air, N2, O2, and CO2
One Mass Flow Controller for mixed gas flow control
Data Management
The Xpansion system has one ethernet port for data communication/ acquisition. It can be linked to egraph (optional software and computer provided by Pall Life Sciences). egraph is installed on a host PC and provides data acquisition for all process values.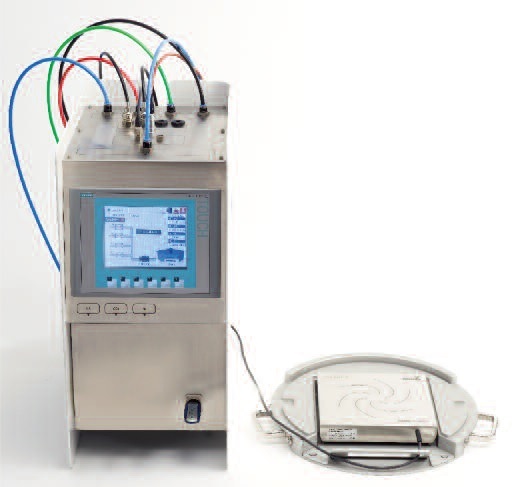 Xpansion Controller and Docking Station
Controller
Height
50 cm (19.7 in.)
Depth
40 cm (15.7 in.)
Width
25 cm (9.8 in.)
Weight
15 kg (33 lbs.)
Power supply
100 – 240 VAC, 50 – 60 Hz
Interface
Ethernet
USB host
Stirrer speed
5 – 250 rpm
Integrated measurement module
Disposable DO sensor
Disposable pH sensor
Temperature
One point recalibration function
Disposable DO sensor
Disposable pH sensor
Gas options
O2
N2
CO2
Air
Temperature monitoring
0 – 50 ºC (32 – 122 ºF)
Gas Requirements
Gases
Application
Specification
Air
pH control
Compressed air – medical grade
Outlet pressure between 1 and 2 bars (14.5 – 30 PSI) 6 mm Festo connectors
CO2
pH control
Pure CO2
Outlet pressure equivalent to air pressure 6 mm Festo connectors
Oxygen
DO control
Medical grade oxygen
Outlet pressure equivalent to air pressure 6 mm Festo connectors
Nitrogen
(optional)
DO control
Medical grade nitrogen
Outlet pressure equivalent to air pressure 6 mm Festo connectors
Additional Information
Features and Benefits
Xpansion Bioreactor System
Scalable system

Available in a wide range of sizes to allow for scale up from lab scale to production

Same environment as multitray stack

Decreased process development time and risk
Less cost for process development and validation
Accelerate time to market

Compact and closed system

Reduced footprint
Reduced risk of batch failure due to contamination
Decreased operating cost

Controlled environment

Process reproducibility facilitates quality control
Supports cGMP compliance
Supports regulatory approval
mPath Control Tower and Pall Link Server
mPath control tower designed for operation with Pall Link - a SCADA software package

Capable of accessing data anywhere on any networked device including laboratory workstations,desktop computers or remote devices such as laptops, mobile phones and tablets
Operates as either a standalone network or integrated with site IT systems, compatible with multiple network security approaches (e.g. virtual private network [VPN]) and password protection to protect bioreactors from unauthorized access
Full alarm customization to alert for process or safety critical events

Ergonomic industrial design

Extensive human factors research to determine optimal placement of connections and control tower elements
Flexibility in operation – choose when and where to view data, choose how to design processes
Compact design to limit bench space requirements – small form factor and biocontainer hangers remove the need for scales and bottles
Elevated from bench for cleanability
See datasheet for documentation and certificates, and Pall quality standards.
Preventive Maintenance and Service Packages
The Xpansion bioreactor system is supported with extensive maintenance and service packages. Pall has a global network of technicians and engineers available to assist with installation, qualification, training, technical support, preventive maintenance and on-site repairs. Contact Pall to arrange to discuss any of these services.
Process Development Services
Pall Accelerator process development services provide customers with expert advice and support for the implementation of fully integrated single-use processing solutions into new or existing processes, including process optimization, equipment selection, transfer of existing processes, scale-up and troubleshooting advice. Details can be found in the Accelerator Process Development Services brochure (USD 3079).
Our teams are specialized in upstream and downstream processing and will gladly help find the right technology for any part of your manufacturing process. It is possible to combine the Xpansion bioreactor system with other products to meet any requirement in the upstream part of the process:
Media preparation
Buffer preparation
Media sterilization and aseptic transfer
Liquid transfer into the bioreactor (e.g. glucose, anti-foam, base, etc.)
Seed train solutions
Cell harvest and separation
Perfusion modules
Please contact Pall for a total solution discussion on your process.
Ordering Information
Description
Part Number
Xpansion bioreactor system
System hardware – consists of Xpansion hardware,
mPath controller, control cables
XPNBRS
Pall Link server and SCADA software
MPATHLINK
Harvest station
Mechanical cell detachment device for harvest
XPNHVST
Lift
Safe movement of bioreactor from package to incubator.
Highly recommended for XP100 and XP200
XPNLIFT
Consumables
Xpansion 10 bioreactor
Xpansion 50 bioreactor
Xpansion 100 bioreactor
Xpansion 200 bioreactor

XPN10
XPN50
XPN100
XPN200
Seeding manifold
2 L bottle with female MPCu connector used to transfer
cell suspension into seeding container
6100097S
Pooling manifold
Sterile 10 L bottle with female MPC connector used for
pooling reagent bottles
6100129