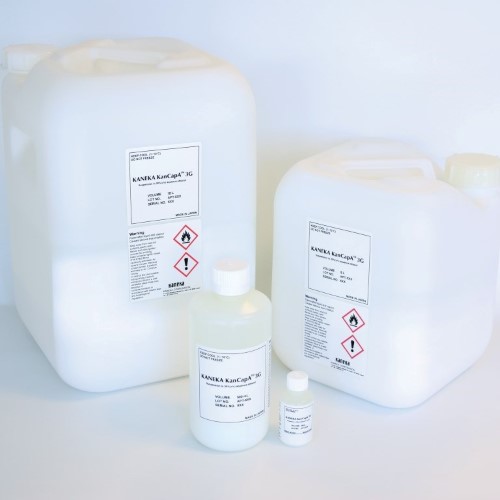 Need Help?

More Information

Description
Great dynamic binding capacity and long service life for improved process economy
Gentle elution at a mild pH to protect against mAb aggregation or denaturation
Guard against impurities with high selectivity for efficient HCP and aggregate removal
High Capacity Sorbent with Enhanced Impurity Removal for the Purification of Monoclonal Antibodies and Fc Related Molecules
KANEKA KanCapA 3G Protein A affinity sorbent achieves high binding capacity with enhanced selectivity to reduce host cell proteins (HCP) and aggregates while eluting at a mild pH which can reduce denaturation and improve process yields. These performance attributes combine to deliver a key element of a modern, scalable purification platform so you do not have to choose between purity and productivity.
KANEKA KanCapA 3G sorbent comprises a recombinant Protein A ligand covalently attached to a rigid cellulose matrix. This ensures stability over a high number of cycles and provides high flow performance at low pressure making the sorbent compatible with the process requirements for large scale mAb manufacture in both batch and continuous processing using multi-column chromatography solutions.
The sorbent is available in 1 and 5 mL PRC prepacked columns designed for rapid method optimization or small-scale preparative work and is also available in bulk as a slurry in 20% (v/v) ethanol in pack sizes ranging from 25 mL to 10 L.
Protein A Ligand
Native Protein A has a high affinity for the Fc region of immunoglobulins, but also exhibits an undesired affinity for the Fab region. In order to disrupt the Fab-Protein A interaction, a low pH is often required that can lead to unwanted mAb aggregation.
Figure 1
Schematic representation of KANEKA KanCapA 3G Protein A ligand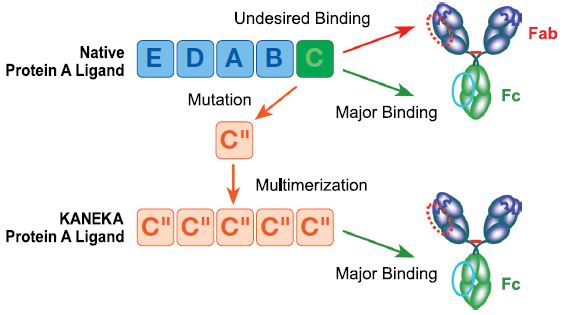 The Protein A ligand used in KANEKA KanCapA 3G sorbent is a mutated multimer of the C domain (C'') of the native Protein A molecule which enables much milder pH elution to protect mAbs from aggregation. In addition, this high selectivity provides enhanced removal of HCP and aggregates. The ligand design is such that there is no detectable Fab binding and is alkali stable to meet the requirements of commercial manufacturing in terms of clean in place (CIP) using 0.1 M or 0.5 M NaOH. The rProtein A is expressed in bacteria and is free of animal derived content.
Table 1
Sorbent properties
 
Base matrix
Highly cross-linked cellulose
Average particle size
65 - 85 μm
Ligand C"
Modified engineered recombinant Protein A
Coupling chemistry
Reductive amination
Dynamic binding capacity (DBC)*
≥ 58 mg human polyclonal IgG/mL packed resin
Chemical stability
Stable in solutions commonly used in affinity
chromatography
Working pH range
pH 2 - 13
CIP condition
0.1 M sodium hydroxide 15 min contact time
or 0.5 M for shorter periods of time
Operational flow rate
Up to 500 cm/h (bed height 20 - 25 cm)
Residence time
≥ 3 min (4 - 10 min is recommended)
 
*5% DBC determined by frontal analysis at 6 minutes residence time
Operating Flow Rates
KANEKA KanCapA 3G sorbent is based on highly cross-linked cellulose matrix and can be readily packed and unpacked in laboratory, pilot and production-scale columns. The sorbent supports high flow rates consistent with the requirements of the latest production processes.
The pressure drop obtained at 500 cm/h in columns ranging from 4.4 cm to 60 cm internal diameter (ID) with a 20 cm bed height is no more than 1.5 barg (22 psig) which is consistent with routinely used process systems.