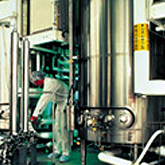 Need Help?

More Information

Description
Pall has the capability to support our customers in development of separation and purification processes. Whether driving to bring new products to market or streamlining and troubleshooting existing processes, Pall Life Sciences can provide flexible solutions and high quality documentation to back it up.Pall specialists operating in the field can quickly access dedicated Pall  technologists, equipment, and laboratories for services ranging from simple advice to pilot investigations or full detailed research proposals.
Unit Operations for an Integrated Process
Since Pall is the largest provider of separation and purification media, hardware and both automated and disposable systems, we are uniquely positioned to quickly optimize solutions for each customer. The technologies upon which we focus include:
Direct flow depth and membrane filtration
Tangential (cross) flow membrane filtration
Dynamic membrane separations
Membrane chromatography
Coalescing filters
Specialized R&D processes (for example, novel uses of membranes for affinity based separation techniques)
Water treatment and purification equipment
In addition to the above, and for the purpose of process integration, we have established links to a wide range of other suppliers who can provide support for implementation of complementary technologies.
Typical Services Available
Services available as individual or combined activities include:
Membrane and module selection tests
System-design optimization tests
Cleaning cycle development
Analytical services
Qualification of disposable process
Process modelling
Systems design
Inspection and report
Engineering services for vessels and pipework