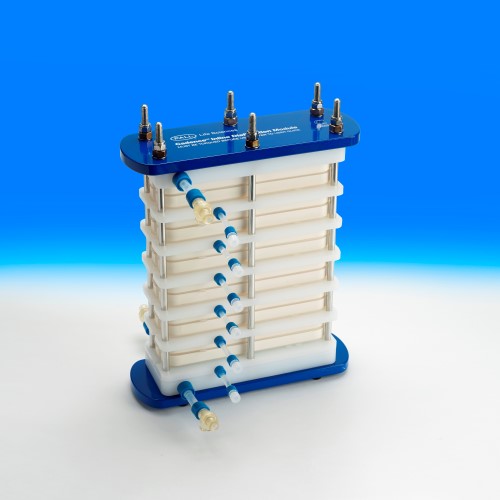 Need Help?

More Information

Description
Single-pass tangential flow filtration (TFF) is revolutionizing how TFF is implemented in biotech, vaccine, blood plasma and other applications. Pall is now making it even easier to implement this breakthrough patented technology into your process. As with the original Cadence single-pass TFF module, the new Cadence Inline Concentrator allows direct flow-through in-process volume reduction and can be implemented into a process system or operate as a stand alone unit.
This exciting new technology leads to economic and practical benefits, including:
Ability to couple the concentration of product before or after other Downstream Processing (DSP) steps, consequently optimizing other steps and reducing in-process pool tank volumes.
Continuous processing in DSP
Easy integration of the assembled module, allowing plug and play
Potential reduction of product damage or aggregation due to reduced residence time and shear exposure.
The preassembled Inline Concentrator modules do not need a holder. Once the feed port is connected to a pressurized feed source, the module is ready for use. The built-in resistor in the retentate manifold eliminates the need for downstream instrumentation and allows volume reduction of 2 to 4X (or higher), depending on the application. Pall can provide tubing sets to ease the testing and implementation of the Cadence Inline Concentrator.
Using Cadence Inline Concentrator with Delta membrane, the innovative benefits of single-pass TFF technology are enhanced by the proven high flux, high selectivity, and low protein binding attributes of Delta regenerated cellulose membrane.
Optimize Economic and Operational Benefits
Enhance downstream processing to increase capacity and reduce costs – Cadence Inline Concentrator modules can help to eliminate or reduce the size of intermediate storage tanks and associated cleaning of tanks when used for in-process volume reduction before or after existing steps.
Enable in-process volume reduction – Depending on the initial concentration and product characteristics, a volume reduction of 2 to 4X (or higher) can be achieved with minimal instrumentation or system.
Optimize processing of highly shear-sensitive products – Processing results in only one pass through the pump and module, reducing shear exposure. For products sensitive to pumping, the pump can be completely eliminated by using pressurized vessels to flow the process fluid through the module. Further benefits are achieved by eliminating any mixing or foaming issues associated with the feed tank.
No holder required – Cadence Inline Concentrator modules are provided assembled, and the cassettes and manifolds are pre-torqued between two end plates so that no extra holder is required.
Benefits include:
Easy connection to a pressure source, like a pump or pressure vessel
Simplified in-process volume reduction
Continuous processing enabled by process coupling
The module feed, retentate and permeate ports are easily connected to the appropriate outlets using clearly marked ports
Product Platform
Innovative single-pass TFF processing takes place within the Cadence SPTFF modules. Cadence SPTFF modules incorporate Pall's proven T-Series cassettes with Delta membrane, and are available in different formats to accommodate various processing volumes (see Ordering Information).
T-Series Cassettes with Delta Membrane
Delta regenerated cellulose membrane offers high flux and selectivity. The membrane has been specifically developed to minimize protein binding to the surface and interstitial structure of the membrane. Inherently hydrophilic, this membrane shows low protein adsorption properties and is optimal for processes involving very hydrophilic proteins.
Delta regenerated cellulose membrane shows low fouling characteristics, allowing consistent performance.