Need Help?

More Information

Description
FLUID CONDITIONING PURIFIER
70 L/min • Fluid viscosities to 700cSt
Reliability of systems, the service life of system components and fluids are extended by minimising water contamination.
The Pall HNP074 Purifier is designed to remove water from fluids thereby maintaining lubricity properties, minimising fluid oxidation and reducing aeration.
High performance water and gas removal
Simple operation
Remote monitoring option
Extension of system fluid life
Increased equipment reliability
Minimized corrosion within systems
Reduced fluid disposal
Reduced operating costs

Pall purifiers remove 100% of free water and in excess 80% of dissolved water. They also remove 100% of free and entrained gases and in excess of 80% of dissolved gases.

The Pall HNP074 fluid conditioning purifier can be used as a fixed installation or portable unit that is easily removed and connected to any fluid system.

This purifier design is based on the existing range of Pall fluid conditioning products, it allows for easy operation and control.

Automated controls, integral to the unit constantly monitor the operation of the purifier and will safely shutdown the unit if acceptable limits are exceeded.
Specifications
 Dimensions:
 725 mm x 1585 mm x 1865 mm
(28.5 " x 62.4 " x 73.5 ")
 Dry mass:
 385 kg (849 lb) approx
 Inlet connections:
 2 " BSPP or 2 " NPT
 Outlet connections:
1½ " BSPP or 1½ " NPT
 Inlet pressure:
-0.4 bar g (-40kPag / -5.8 psi g) minimum
1.5 bar g (150kPag / 44 psi g) maximum
System back pressure:
3.5 bar g (350 kPag / 50.8 psi g) maximum
 Fluid operating temperature:
 +10 ºC (50 °F) to +70 ºC (158 °F)
 Fluid viscosity:
700 cSt (3300 SUS) maximum
 Operating vacuum:
  -0.6 barg to -0.9 bar g (adjustable)
(-60 kPag / -8.7 psi g to
-90 kPag / -13.1 psi g)
 Power supply:
See Table 1
 Total Motor power:
 5.5 kW @ 50 Hz, 3Ø
7.3 kW @ 60 Hz, 3Ø
 Materials of Construction
 
 Base frame:
 Epoxy painted carbon steel
 Vacuum vessel:
 304 Stainless Steel
 Fittings and fasteners:
 Corrosion protected carbon steel
 Control box:
 Epoxy painted carbon steel
Hydraulic hoses and seals:
 Fluorocarbon
Note: Pall HNP076 series fluid conditioning purifiers comply with all applicable EC directives and bear the CE mark.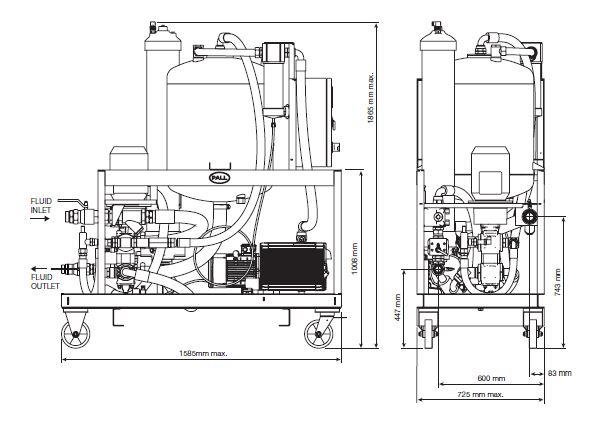 Use
Filtration, Polishing, Prefiltration, Removal
Ordering Information
Purifier
P/N: HNP023 [Table 1/Code 1] [Table 1/Code 2]   Z   [Table 2] [Table 3] [Table 4] [Table 5]


Note: Z indicates fluorocarbon seals and AQP Elastomer Tube* hoses are standard. Other options are available; contact Pall.
Please select only from the following list of standard purifier options:
HNP076S3ZCPENA
HNP076S3ZCPENB
HNP076S3ZCPENC
HNP076S3ZCPEND
HNP076S3ZCPDEA
HNP076S3ZCPDEB
HNP076S3ZCPDEC
HNP076S3ZCPDED
HNP076S3ZCPFRA
HNP076S3ZCPITA
HNP076S3ZCPITC
HNP076R3ZCTENA
HNP076R3ZCPENB
HNP076R3ZCPRUB
HNP076S3ZCPPLB
Table 1 - Standard Voltage
 
Code
Voltage
R
380 VAC
S
400 VAC
 
Standard voltages only listed. Other voltages will be available on request - price and lead time will be provided on application.
Table 2 - Frequency Options
 
Code
Frequency
3
50 Hz, 3 phase
 
Table 3 - Seal Type
 
Code
Material
Z
Fluorocarbon
 
Table 4 - Mounting Options
 
Code
Mounting Type
C
Mobile (2 fixed and
2 swivel castors)
 
Table 5 - Process Port Connection Options
 
Code
2" inlet / 1½"
Outlet Connections
P
BSP ISO 228 threads
 
Table 6 - Language Options
 
Code
Language
DE
German
EN
English
RU
Russian
PL
Polish
FR
French
IT
Italian
 
Table 7 - Optional Factory Fitted Kits
 
Code
Kit
A
No optional kit(s) fitted
B
5m electrical cable, socket and plug, in accordance with IEC 60309 to electrically connect the purifier
C
Gauge points, inlet and outlet pressure gauges and an inlet sight flow indicator to allow fluid condition and pressures to be monitored
D
Both kits B and C
 
Optional inlet and outlet hose 5m P/N: HNP076HZ
Replacement Filter Element P/N: UE610 [Table 1] 40Z
Note: Z indicates fluorocarbon seals are standard. Other options are available; contact Pall.
Table 1 - Element Rating
 
Code
Bx(c) >2000 based on ISO16889
AZ
3
AP
5
AN
7
AS
12
AT
22
 
Replacement Air Breather
P/N: HC0293SEE5