Profile Coreless filter elements combine Pall proven Profile depth filter technology with a design that eliminates the core to provide a convenient, cost efficient and environmentally-friendly solution for high flow rate applications.
The large diameter filter element features low differential pressure polypropylene, nylon or polyphenylene sulphide (PPS) medium, meaning fewer elements are required for a given flow rate. Filter vessels are correspondingly smaller, resulting in lower capital and installation costs, as well as reduced operating costs.
Convenience
The Profile Coreless filter element fits over a 316L stainless steel core, which is retained inside the filter housing. At changeout, the element is simply pulled up over the core which is then ready to accept the replacement element. By retaining the metallic core, the Coreless design significantly reduces the amount of waste material to dispose of, providing a lower cost, more environmentally-friendly option.
Efficiency
Profile Coreless filter elements use the advanced and proven benefits of Profile medium's unique depth filter technology. The combination of a continuous graded pore prefilter section and a high performance inner section is an ideal combination, giving low clean differential pressure, high liquid flow rates and long service life.
Quality
The Profile Coreless filter element is manufactured to a very high standard of quality assurance and cleanliness, and in accordance with BS EN ISO 9001:2008.
Features
Large diameter cartridge utilizing low differential pressure media.
Separate stainless steel core retained in the filter housing.
Proven depth filter technology / continuous graded pore structure.
Polypropylene, nylon or polyphenylene sulphide (PPS) filter media.
Fully disposable design.
Benefits
Smaller systems with low capital cost, low installation costs and reduced operating costs.
Providing high liquid flow rate capability, ease of fitment, low operating costs and increased cost efficiency.
Reliable, consistent and verifiable filtration performance.
Compatible with a wide range of applications.
Less waste materials, lower cost of disposal and more environmentally-friendly
Materials of Construction
 
Filter Element
Polypropylene, Nylon or Polyphenylene Sulphide (PPS)
Core Assembly
316L Stainless Steel
 
Technical Information
Operating Characteristics in Compatible Fluids1
 
Maximum Differential Pressure
Operating Temperature
Polypropylene
Nylon
Polyphenylene Sulphide (PPS)
4.0 bard (58 psid)
32 °C (89.6 °F)
32 °C (89.6 °F)
32 °C (89.6 °F)
1.0 bard (14.5 psid)
82 °C (179.6 °F)
130 °C (266 °F)
204 °C (400 °F)
 
1Compatible fluids are defined as those which do not swell, soften or attack any of the filter components
Core Assembly Seals (removable option only)
Seal Material
Ethylene Propylene Rubber (EPR)
Fluorocarbon Elastomer
FEP encapsulated Fluorocarbon Elastomer
Nitrile
Flow Rates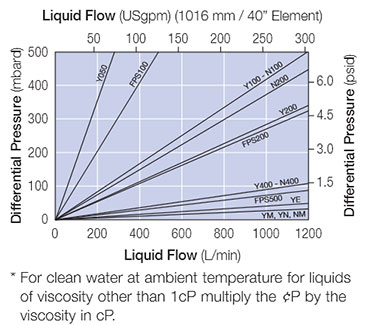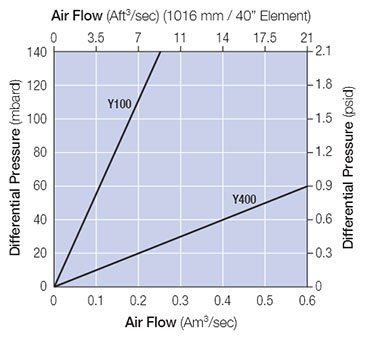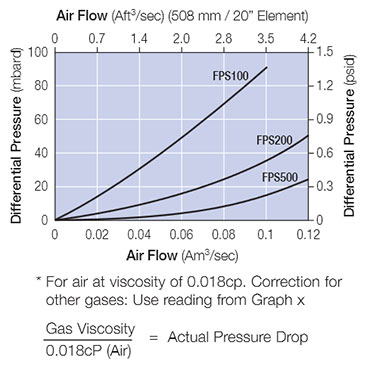 Operating and Installation Procedures -
Profile® Coreless Filter Element
 FP01109 Rev. A.
Operating and Installation Procedures  - Pall® Coreless Filter Assembly 
 L00648
This information is a guide to the part number structure and possible options. For availability of specific options, please contact Pall. Refer to Pall for housing details.
Element Part Number: E 60
[1] [2]
Core Assembly (removable option) Part Number: EHS 60
[1] [3]
Table 1: Nominal Length
 
Code
Description
2
508 mm (20")
4
1016 mm (40")
 
Table 2: Media Options
 
Polypropylene2
Nylon2
Polyphenylene3 Sulphide (PPS)
Removal Rating in Liquids (μm)
Removal Rating in Gases at 0.3 μm4
Y050
—
—
5
—
Y100
N100
FPS100
10
99.997 % (Y100)
99.999 % (FPS100)
Y200
N200
FPS200
20
—
Y400
N400
—
40
99.995 % (Y400)
—
—
FPS500
50
99.869 % (FPS500)
 
YE5
—
—
Coarse grade media for use in E-coat paint baths
YM5
NM
—
Coarse grade media for use in mica paint applications
YN5
—
—
Coarse grade media for use in mica paint applications
 
2 Beta 5000
3 Beta 1000 efficiency rating
4 Determined in laboratory trials using sodium chloride aerosols at 300 Sm3 / hr
5 Profile Coreless paint application filter elements are not given removal ratings
Replacement Core Assembly Seals
 
O-ring Seal
Part Number
Ethylene Propylene Rubber (EPR)
CA53418 and ORJPW-111P
Fluorocarbon Elastomer
LS00372 and LS00429
FEP encapsulated Fluorocarbon Elastomomer
CC62592 and CC62591
Nitrile
LS0043 and LS543