Continuous Length, Backflushable, Precoat, Condensate Filter
Hydro-Guard CoLD R filter elements are manufactured using the CoLD Melt™ fiber production process. The CoLD Melt process permits the creation of multiple filtration zones within a single filter cartridge. The reverse graded pore density, multi-zone design provides customers with even precoating, efficient backflushing, and long filter life. Many power plants around the world have switched from string wound technology to Hydro-Guard CoLD R products for improved condensate polishing.
Product Feature
Product Benefit
Customer Benefit
Continuous Length Element

Improved deionization performance
Optimized resin capacity utilization

Co-Located Large
Diameter Melt Fibers

Resists collapse or compression under increasing differential pressure
Rigid pore structure results in more consistent, reliable and reproducible filtration compared to string wound configurations

Reduced possibility of resin bleedthrough
Stable filtration performance over the life of the element

Reverse Graded Pore
Density Structure

Enhanced surface filtration
High-efficiency backflushing

Longer element service life reduces number of filter change-outs and filter disposal costs
Minimizes worker exposure in radioactive applications

All Polypropylene
Construction

Reduced extractables - free of adhesives, binders and surfactants
No rinse-up required
Incinerable

No filtration related chemistry excursions
Reduced start-up costs
Reduced filter disposal costs
Performance Specifications
Maximum operating temperature
65 °C (150 °F)
Maximum differential pressure
2.07 bard (30 psid) @ 65 °C (150 °F)
Typical Flow vs. Differential Pressure for Application Sizing1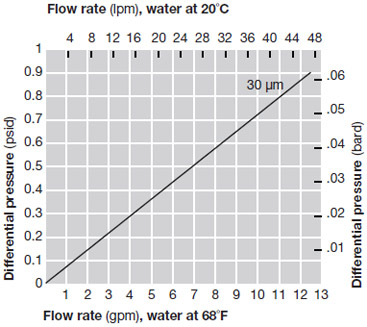 Unit conversion: 1 bar = 14.5 psi

1 Flow rate is for a 152 cm/60 inch 30 μm cartridge. For liquids other than water, multiply differential pressure by fluid viscosity (cP).
Product Specifications
Materials of construction
Filter media:
Polypropylene
End caps:
Polypropylene
Sealing:
Thermal bond
Gasket/O-ring material:
Sulfur-free EPDM (standard)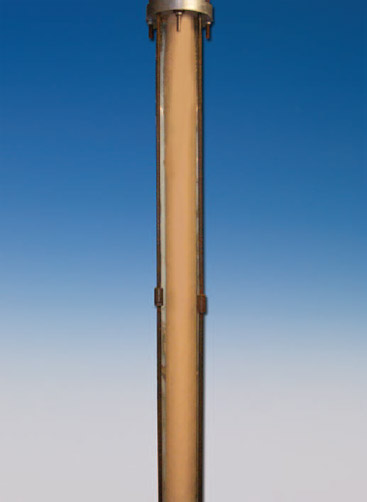 Pall Part Number =
HGCOLDR
[1]-[2]-
P
-[3]-[4]-[5]
Table 1
Code
Filter grades (μm)
5
5
30
30
Table 2
Code
Cartridge lengths cm/in.
50
127/50
60
152/60
70
178/70
80
203/80
Table 3
Code
Seal material
E
Sulfur-free EPDM
Table 4
Code
End configurations - bottom
COOP
Fine threaded connection for bottom tube sheet vessels
M8TVO
Extended neck, double O-ring seal for top tube sheet vessels
PAK-F
One turn, easy install/remove connection with double seal integrity for bottom tube sheet vessels
PBQ
Double-open-end filter for bottom tube sheet vessels
End configurations - bottom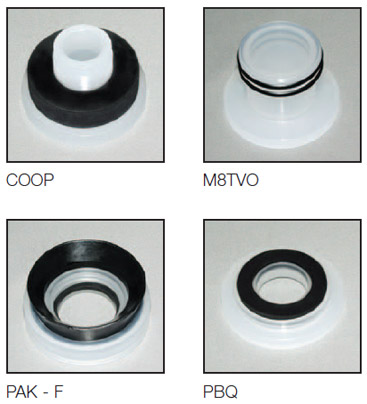 Table 5
Code
End configurations - top
H
3& ⁄8 HEX - 2.5 inch elongated hex nut and cotter pin for connection with vessel lattice strips
S
3& ⁄8 STUD - 1.5 inch threaded stud and either nut or
cotter pin for connection with vessel lattice strips
FIN
SPEAR - Bottom retaining devise for top tube
sheet filters
DOE
Double-open-end filter for top tube sheet vessels
End configurations - top